Worship is at the heart of our life as a community of faith in the risen Lord.
 The Holy Eucharist – also known as the Lord's Supper, the Breaking of the Bread, Holy Communion, the Mass, or the Divine Liturgy – is our central act of worship.
 We are an inclusive & affirming church.  People of all ages and from all backgrounds are welcome to be part of our worshipping community.  Come as you are.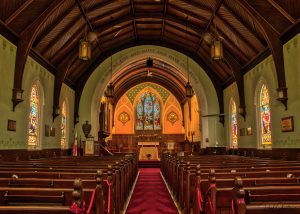 SUNDAY WORSHIP – 10:30 am
 Holy Eucharist – 2nd, 4th, & 5th Sundays & all Principal Feasts
 Morning Prayer – 1st & 3rd Sundays (replaced by the Eucharist on Principal Feasts)
Special Services   
 Remembrance Sunday (Royal Canadian Legion)
 Thinking Sunday (Girl Guides)
 Harvest Thanksgiving Sunday
 Advent/Christmas Carol Service
Social time happens right after the service – good conversation, coffee/tea, & treats!
Homemade soup & sandwich luncheon – 1st Sunday of the month.
Our schedule sometimes changes.  Please call the parish office for more information.
SPECIAL SERVICES AT DIFFERENT LOCATIONS
During the months of July & August, St Thomas' congregation meets for Sunday worship at Trinity the Marsh Chapel (County Road 21 West & Glamorgan Road) at 10:30 am.
 We have four services during the year at St Mary's Cemetery & Chapel (Decoration Day in August, Harvest Home, Christmas, & Easter)
 We have one service in the spring at St Paul's – 4th Line Cemetery & Chapel (Decoration Day in June)
SCENES FROM THE BLESSING OF ANIMALS SERVICE