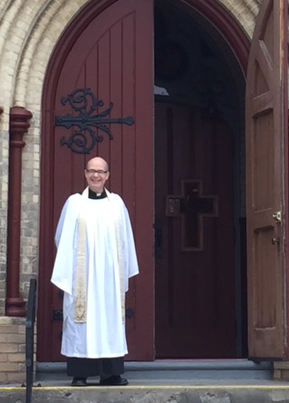 The Reverend Robert Ross has been appointed Interim Priest-in-Charge of the Parish of Cavan Manvers on a part-time basis beginning August 1, 2016.
Rob received his theological education at Trinity College, Toronto, and was ordained in 1981. He has served in parishes in Kelowna, BC, in Elmvale, Ontario, and in Toronto. After 10 years of full-time parish ministry, he became a high school teacher with the Toronto Board of Education (teaching English, Accounting, Business Studies, Co-operative Education, and later working as a Guidance Counsellor). He was Head of Business at Central Commerce Collegiate for several years, and later a Curriculum Leader (Head Teacher) at Contact Alternative School (both schools in central Toronto). During his teaching career, Rob continued to work as Associate Priest (part-time) at St Thomas's Church, Huron Street, Toronto. He retired from teaching and from St Thomas's in 2010 but has continued to work as an honorary assistant and " vacation supply" priest in the diocese. He recently completed nearly two years as Interim Priest-in-Charge of St Matthias' Church, Bellwoods Avenue, Toronto, where he remains an honorary assistant.
In the larger community, Rob is in his second term as Chair of the Downtown Millbrook Revitalization Advisory Committee (a standing committee of Cavan Monaghan Township Council), is a member of the Save the Dam Mill Pond Group of the Millbrook & Cavan Historical Society, and is a Director of the Millbrook Non-Profit Housing Corporation ("the Manor").
Rob has often done vacation supply work at St Thomas', Millbrook, in the past, and hopes to get to know more parishioners during his time as interim pastor. He can be contacted through the parish office.
---
Father Ross may be contacted through the office.
---