The Greeting Words
The words on the arch that forms the entrance to the sanctuary have special meaning to the people of St Thomas.  They once read "The Lord is in His Holy Temple. Let all the Earth Keep Silence Before Him" (Habakkuk 2.20).  When the church was restored in 2010, the words were changed to "In Him We Live and Move and Have Our Being" (Acts 17:28) to better reflect the contemporary vision and mission of the parish.
---
The Organ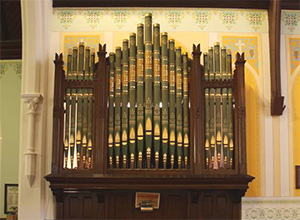 The Historic Organ Committee of the Royal Canadian College of Organists has designated the St. Thomas 1889 Lye Tracker Organ as a Historic Classification A instrument.  Only five other instruments in Canada share this honour. The Lye Tracker Organ is in its original condition and was restored by Alan T. Jackson and Co. Ltd., through the bequests of Muriel Smith (1897-1993) and her sister Gladys Graham (1895-1992) The wind supply is powered electrically but the original blowing system is still intact. There is no change to the chests, tonal work, console, wind system or organ case.
The Windows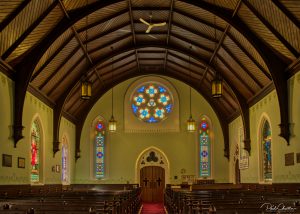 One of the unique features of St Thomas' Church is its high-quality, historic stained glass windows.  The windows have been given over the years by parishioners as memorials or thank offerings.
---
---
Rentals
It is possible for the church or parish hall to be rented by groups or individuals.  All rentals must be approved by the Priest-in-Charge and Churchwardens.  For more information, please call the parish office at 705-932-2233 or email us at cavmanparish@nexicom.net.
St. Thomas' Church and Parish Hall are fully accessible.
---