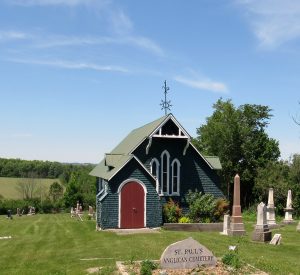 History
St Paul's is located on land that was set apart in 1818 as one of the clergy reserves established by the Crown in Upper Canada.  The first recorded burials date from 1819. In 1820, the first resident Anglican clergyman in Cavan, the Reverend Joseph Thompson, caused two school houses to be erected in the parish as temporary places of worship: one on land near what is now the village of Ida; and one on the clergy reserve on the 4th concession of Cavan.  The school house in Ida was replaced by a frame church in 1824: the first St John's Ida.  In 1837, St Paul's, 4th line, replaced the second school house.  For many years, St Paul's was the only Anglican church in the south end of the parish.  People from Millbrook would have to walk up to St. Paul's for Sunday services – a considerable distance.  With the opening of St Thomas', Millbrook, in 1858, as well as Christ Church, Bailieboro, in 1863, St Paul's congregation began to decline.  In 1877, services were discontinued.  In 1885, it was designated a "mortuary chapel."  Today, along with Trinity the Marsh and St Mary's, Lifford, it is a 'chapel of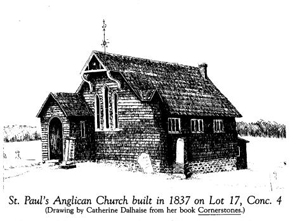 ease' of the Parish of Cavan & Manvers.  The chapel is gradually being restored, as funds permit. A Decoration Day Service is held every year on the third Sunday in June.
---
Cemetery
St  Paul's is still an open cemetery, with a good number of burial plots available for sale.  It is located in beautiful countryside with gently rolling landscape and is surrounded by working farms.  The cemetery is managed, on behalf of the parish Corporation, by a Board of Trustees.  Much work has been done in recent years to improve the grounds, to restore monuments, and–given its historical significance–to gradually restore the chapel.  For information about purchasing a plot or making a financial gift to the cemetery and/or the chapel, please contact the parish office at 705-932-2233 or email: cavmanparish@nexicom.net.
Finding St Paul's
Located at 1304 Zion Line, Cavan Monaghan, Ontario.  From Millbrook, travel south on County Road 10, turn east on Zion Line, and travel approximately 2 km.  The chapel and cemetery are on the north side of Zion Line.
https://goo.gl/maps/g6LtAYSV2Pwg94TLA
---
---