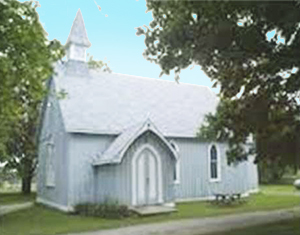 Trinity the Marsh is a cherished part of the Anglican Parish of Cavan and Manvers.
Worship: Worship services are held at Trinity the Marsh during the months of July and August at 10:30 am.
History: Trinity the Marsh Church was built in 1876, to save local farmers the long trip to attend services at St. Thomas Anglican Church in the neighbouring village of Millbrook. It is located near the forested rolling hills or the Oak Ridges Moraine, in the farmland of the Township of Cavan Monaghan.
---
Finding Trinity the Marsh
Located on County Road 21, out of Millbrook follow King Street west, go past the Tapley quarter line, until you come to Glamorgan Road. You will see a little white church on your left: Trinity the Marsh.
---