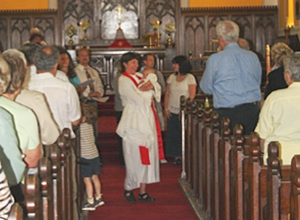 Baptisms
The sacrament of baptism welcomes new members into the Body of Christ and is most significant in the life of a congregation. If you are considering baptism please contact the clergy in order to explore this possibility.
---
Weddings
The Parish of Cavan Manvers has three unique facilities: St. Thomas, Millbrook; Trinity the Marsh (summer church); St. Mary's Lifford, (near Bethany). Anglican church canons state that contact and arrangements with clergy must be made more than 60 days prior to marriage. As well, all potential bridges and grooms must participate in marriage preparation, usually a Friday evening and Saturday with professional instructors, or an on-line course or session with clergy person. Please contact the church office to receive an information sheet including prices.
---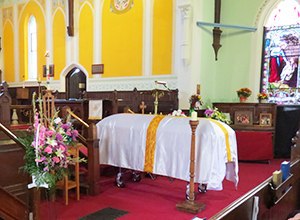 Funerals & Memorials
Services follow a basic Anglican liturgy as well as personalized selections of Scripture, music and reflections. Facilities are available for reception purposes. Please contact clergy to make arrangements.
---
To discuss baptism, confirmation, marriage, the healing ministry of the Church (prayer, laying on of hands or anointing), or a pastoral visit, please speak to Father Rob Ross.